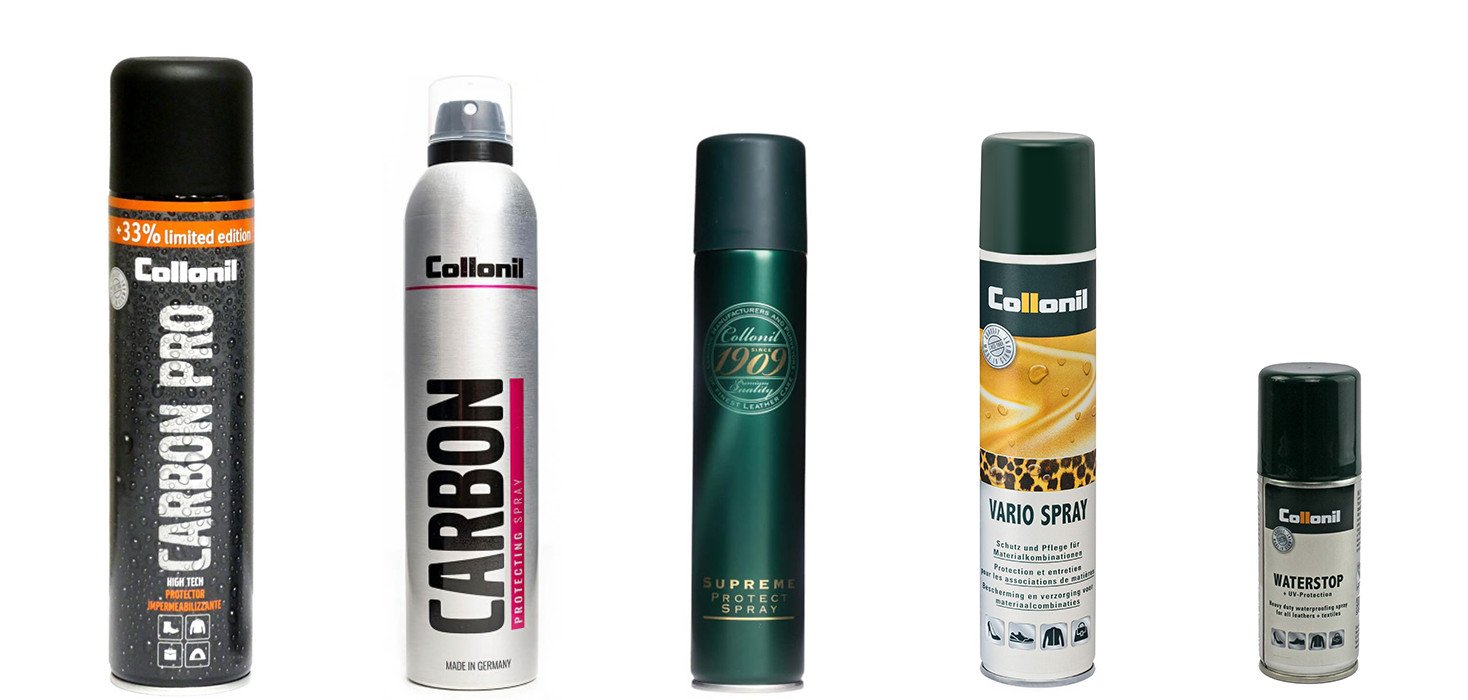 What does it mean to waterproof your goods?
In the video below, the upper half of the leather mounted on the board is waterproofed, whereas the bottom half isn't. See how the liquids and dirt poured easily slide off the upper part but are absorbed by the lower part? Waterproofing protects your belongings from the unwanted spills and dirt that you encounter on a daily basis.
You can also check out our Instagram Story Highlights under Tips for complete information on waterproofing.
The Different Collonil Waterproofers
The Collonil brand sells many, many different waterproofers, but we currently carry 5 to the Philippine market. All are suitable for all materials, but each has different care properties. What exactly are the differences between these? Read on to find out what's best for your material.
Carbon Pro & Carbon Lab Protecting Spray
Carbon Pro and Carbon Lab Protecting Spray last the longest in terms of waterproofing. The Carbon Technology protects the material while still allowing breathability.
We recommend this for textile goods.
Watch the video below to know more.
Vario Spray
Vario Spray is a waterproofer with color-activating properties. It is best for colored and mixed materials, especially suede, but is still suitable for all materials (including textile).
1909 Supreme Protect Spray
The 1909 Supreme Protect Spray is a waterproofer with conditioning properties, best for premium and raw leather, but still suitable for textile. This and the Vario Spray are what we recommend for sensitive leather.
Waterstop Spray
The Waterstop Spray is a waterproofer with UV protection to prevent color-fade, most recommended for smooth leather. Just like all our waterproofers, this is also suitable for textile. And because it comes in 100ml at Php 500.00, a good entry point for first-time waterproofers and for those on a budget.
Now that you know the differences between each product, it all boils down to what material you will use it for and what kind of care you want to give that material. Once you've tried all 5, you may find yourself having a personal favorite. Some of our customers even layer and use two different waterproofers so that they get the benefit of both care and long-lasting protection!
Protect your goods before they even have the chance to be stained. Prevention is always better than cure. Collonil it!